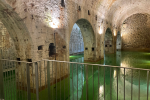 Those staying in Monte San Savino should definitely not miss a visit to the recently restored 16th century Cistern.
Thanks to the metal walkway that crosses it, it can be visited inside (free admission) every day.
Built both with mixed material, both stones and bricks, it consists of two naves each of mt. 26.00x5.00 covered with a barrel vault, connected to each other by four large openings with a rounded arch structure.
Outside, under the two niches, you can see the holes in the water dispensing spouts that have now disappeared.