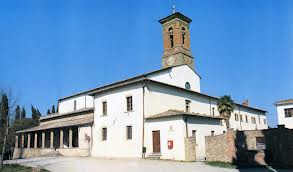 Two kilometers  away from Monte San Savino, we can  find the church of Le Vertighe (XVI century). Its current appearance is due to the restoration works wanted by the archpriest father R. Franci OFM.
The devotion towards the Virgin of Le Vertighe ( Madonna de Le Vertighe) is very old. It started with a  a miracle attributed to the Virgin Mary, who in  1964 was named holy protector of the motorway that runs along the bottom of Monte San Savino (Autostrada del Sole), one of the most important motorways in Italy.
It presents a simple façade which has a  simple rose window. The entrance of the sanctuary is located at the end of beautiful cypress path. Along the façade there is an arcade supported by  big hexagonal pillars, while on the south side of the church there is a portal with an architrave. The medieval stone and brick bell tower, projected by Sansovino, has a square perimeter. Inside, the three naves are divided by two lines of five columns supporting round arches. On the main altar, a wooden triptych depicting the  Madonna delle Vertighe is placed; by it we can see the images of  three Saints painted  by Margarito and Ristoro d'Arezzo (1274 to 1283). Moreover, next to Saint Francis' altar there is a Crucifix painted on a shaped wood board by the artist Lorenzo Mocanaco (1415 to 1420).