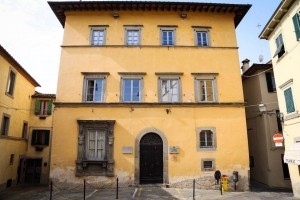 Galletti's Palace, in whose rooms lived famous guests like Pope Julius  III and Bianca Cappello (the mistress and later wife of Grand Duke  Francesco I), still keeps a beautiful window framed by caryatides. 
This is the first Renaissance building in Monte San Savino before the systematic architectural interventions made by Di Monte. The palace became the property of Gamurrini. it was occupied at first by G. Francesco Gamurrini (the square on which the palace overlooks took his name), then by dei Baldi and finally in 1891 it returned to the town Municipe that turned it into a school.
The Palace today is a branch of the Technical Institute  for Surveyors "V. Fossombroni". His façade has three rows of windows scores two ledges: stands to the left of the entrance, a beautiful kneeling window carved in sandstone, at the base are two heraldic shields worn. Inside, after the entrance, on the ground floor there is an entrance hall with vaulted ceilings and roof. The remains of the beautiful courtyard that graced the inside of the building can still be seen. On the first floor, you can admire an elegant living room whose ceiling is supported by five large beams, on which are Painted floral patterns and coats of arms of the principal savinesi's families.