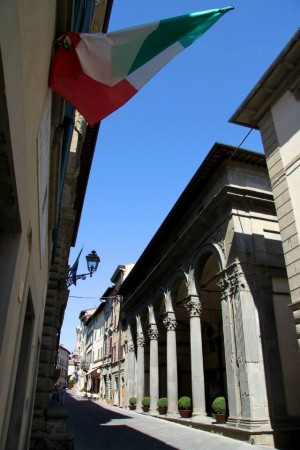 These complete Palazzo di Monte which is located right in front of them. Although originally they were attribuited  to Sangallo and just later to Sansovino,  nowadays  we can say that Nanni di Baccio Bigio was the artist who built them (explicitly Vasari  mentioned a lodge open on three sides, Corso Sangallo, Via delle Logge and  Via Sansovino, speaking about the works he realized in Monte San Savino). They include another two connected buildings: the open gallery and a three storey  building.
Apparently, in 1541 there wasn't a public gallery in Monte San Savino, so the inhabitants decided to build one on the market square, but it was never carried out. Probably the construction of  the lodges started at the time of Pope Julius III (1550-1555) who provided the funds to his brother Balduino, Earl of Monte San Savino from 1550 to 1556, so that he could accomplish the job. The Earl Fabiano, Balduino's son and Lord of Monte San Savino from 1556 to 1569 completed the building spending 700 scudos to fix its front,  to make the big cornice, to finish it and to give a final touch at the back. Later The lodges were used as an open market (from which derives the name Logge dei Mercanti that we still use).
The open gallery presents five round arches supported by four elegant fluted columns with Corinthian order capitals where single or double pilasters lean. The plumes on the capitals are decorated with some symbols of the coat of arms of Di Monte (three mountains on a wreath) in bas-relief. The barrel vaulted soffit is enriched by a stone cornice, blind arcades and doors and oval round oculi. On the bottom side there are three entrance doors with frames: in which the middle one leads to two side spiral staircases  and some middle stairs by which we can reach three rooms of the upper floor where the warehouse files of the of the town are kept.