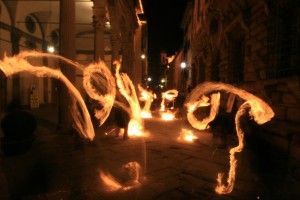 During Holy Week in Monte San Savino renews the traditional appointment with the processions.
At night, in procession through the streets of the country, the eight companies dressed with covers of representation: Compagnia delle Vertighe, blue tunic without cape; Compagnia di Santa Chiara, tunic with blue cape; Compagnia del Suffragio, tunic with pink cape; Compagnia del Crocifisso, tunic with red cape; Compagnia di Don Bosco, tunic with yellow cape; Compagnia dell'OPA, green tunic; Compagnia di San Giuseppe, blue tunic; Compagnia della Misericordia, black tunic.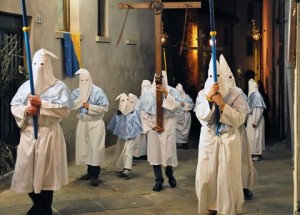 On
Holy Friday
the traditional appointment

with

the

most striking

procession

where all

listed

companies

parade

slowly

and

face covered

carrying

lanterns

,

crosses and statues

representing the Passion

of Our Lord

;

compagnia dell'OPA

carried in the hand

the

"

Dead Christ"

accompanied

by fire

suggestive

of

torches carried

by the compagnia della

Misercordia

which

also has the

task of transporting

the huge

wooden crucifix

.
On
Easter Sunday
the appointment is renewed
in a climate
decidedly
festive
with the same parade
this time
bareheaded
and
with
the compagnia dell'OPA
that on this occasion
brings the "
Risen Christ
"
.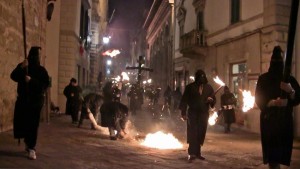 The components start from the Church of Sant'Agostino and then follow along the alleys of the country until Porta Fiorentina where, once released from the walls, proceed along the perimeter of the Public Gardens and then return to the same curch of Sant'Agostino this time through the middle course.
Photos - Massimiliano Barbagli - Pierluigi Zanni -
Gruppo Il Monte